Shopping Cart
Your Cart is Empty
Thank you for your business!
You should be receiving an order confirmation from Paypal shortly.
Exit Shopping Cart
Gong Immersion with Rav Drums, Singing Bowls and more.
January 29th at Yoga Body Shop, Johnson City, NY 12 pm to 1 pm $25 Sign up at Yoga Body Shop
Jeff Gregory's Wellness Through Sound
And Light With Sacred Sound Journeys
Over 20 Years of Healing Sound!
Gong Immersion with Rav Drums and Singing Bowls at Yoga Body Shop, Johnson City
Saturday, January 29th, 12 pm to 1 pm, $ 25.00 Sign up at Yoga Body Shop
Call, Email or Text for personal or small group sessions 607-206-1127
HEART MATH
VOICEBIO
BIOSCAN (Body Frequency Analysis)
ENERGY FIELD ANALYSIS ( includes aura, chakras, meridians and more)
PEMF THERAPY
VIBROACOUSTIC THERAPY
SOUND HEALING SESSIONS
LIGHTBODY ACTIVATIONS
PANDORASTAR LIGHT JOURNEYS
DOWSING
GROUP AND INDIVIDUAL SOUND IMMERSIONS with Gongs, Singing Bowls, RAV Drums and more.
Any questions or to be added to our email list please fill out form below.
or call 607-206-1127 Thank you, Jeff Gregory
WE NOW HAVE THE ENERGY FIELD ANALYSIS (EFA)
INCLUDES AURA, CHAKRAS AND MERIDIANS
Complete EFA session includes Aura, Meridians, Chakras, Sound Session, Biorhythms, with 8 minute music session for balancing.
Cost $ 60.00
Chakra report with 8 minute music session for balancing
Cost $ 30.00
Do not eat anything 1 1/2 hours before the session.
Can not do people with long finger nails as I will be checking the light coming from each finger using Biowell GDV technology to build this report.
Awakening Your Intuition
Through Dowsing
Facilitated by Jeff Gregory, Professional Dowser.
With many examples of dowsing and uses for dowsing.
A lively, hands on class.
Everyone Attending the Class will Receive a Pendulum, Dowsing Rods and Chart, along with Instructions on:
How to use pendulums and dowsing for simple "yes"-"no" questions;

How to use a dowsing chart;

How to Locate beneficial Energy for Human Health

How to Identify Harmful Energy for human health;

How to Stop Harmful Energy Effects;

How to locate underground Water, Pipes, or Tanks;
When: FALL 2020
Where: Pyramid Wellness Center
4 Bates Rd, Johnson City, NY 13790
For More Information Contact
Jeff Gregory: 607-206-1127
Voice Bio Session (15 minutes)
Did you know that your voice is a holographic picture of your health? A Voice Bio session will accurately reveal frequency patterns in your body, showing which tonal frequencies are either heavy (overworked or exhausted) or weak (stagnant or not working).
You will be empowered to understand the root cause of your physical-emotional energetic imbalances, and learn the right key to take back control of your own energetic health through appropriate nutrition, herbs, homeopathy, lifestyle changes, therapies of your choice, etc. Using the Voice Bio software, we will do three voice tests looking for the pitches that you speak. He will then determine which pitches are weak in your voice.
Preparation- DO NOT eat or drink anything except water ONE HOUR BEFORE your session.
Vibroacoustic Sound Table Session plus Voice Bio (30 minutes)
You will receive a Voice Bio Session (see description above) followed by a Vibroacoustic Sound Table session with Jeff Gregory. The Voice Bio session will accurately reveal frequency patterns in your body, showing which tonal frequencies are either heavy (overworked or exhausted) or weak (stagnant or not working).
You'll then relax on the Vibracoustic Sound Table, which will gently vibrate with soothing music to help restore the low or missing note in your energy field. The Vibroacoustic Sound Table is like a normal massage table but is only 18" off the ground.
A session feels much like a gentle massage but there is no hands-on work by the practitioner. You relax (fully clothed) on the table while you're bathed in harmonic frequencies that integrate the whole brain and body into a state of peace and calm.
Bonus!- You will receive a CD consisting of beautiful music to take home with you, which will help you work on restoring the low or missing note.
Important- You should not receive a Vibroacoustic Sound Table Session if you have a pacemaker, have very low blood pressure, have a bleeding disorder or have had recent surgery, or if you've had a recent psychotic episode.
Preparation- DO NOT eat or drink anything except water ONE HOUR BEFORE your session.
VoiceBio
$ 30.00 for initial session
Includes note card to help balance low note.
$ 30.00 for 20 minutes on Vibroacoustic table
with CD to take home.
$ 60.00 for 20 minutes on Vibroacoustic table
with PandorsStar light and CD to take home
$ 20.00 for low note CD only
Light and sound journey with the vibrational table and PandoraStar light.
Gong and Rav Drum Sound Immersion
with Crystal Singing Bowls
On the calendar at top of page.

Come join us for a night of sound with gongs, singing bowls and koshi chimes that transport you into relaxation and meditation effortlessly. Bring yoga mats, blankets and anything that makes you comfortable while laying down. There are also chairs if you would like to sit.
PandoraStar Light Journeys
We have developed a program to help restore the pineal gland in combination with the PandoraStar light machine.
Restore Your Divine Blueprint Series
Winter of 2021
We will be doing monthly mini gong sessions with sacred geometry that restores your divine blueprint just by being in the energy.
There will be four sessions in total.
The first session will assist in restoring Peace, Joy, Inner Harmony
The second session will be I Am, From The Heart of God
To The Heart Of Man and Release Judgement
The third session will be restoring "I am willing to receive blessings",
"I am worthy" and "Align with truth"
The forth session will be " Surrender ego and control",
" Re-Define my relationship with structure" and " Let go of victimhood"
You can do all or one as there will be multiple sessions of each class.
This way you can do one twice if it resonated with you.
Or if you missed one there will be another on a different date.
Cost $ 20.00 per one hour session
Please RSVP as classes will be small and space is limited.
[email protected], call or text 607-206-1127
Location, 4 Bates Rd, Johnson City, NY
We all have a unique blueprint, our own soul program with which we came to Earth. We recognize this as a feeling of happiness when we think about what really makes us happy. During our life, we make new programs which take us away from our center, programs that are based on fear, doubt, pain, sadness, dissatisfaction etc.
They enter like 'spam' and fill our system, so that we are unable to think clearly. If we want to address our blueprint in order to remember our goal, we need to go through these filters - back to our basic program and follow the right path from scratch.
The frequency of Blueprint helps you to clean up polluted programs and delete that which is no longer relevant to you and no longer serves any purpose.
I trust the plan I came here with.
Call or email for a personal gong and and sound immersion
607-206-1127 [email protected] 30 minutes $ 40 60 Minutes $ 70
One hour small group sessions up to three people $ 80.00
Over 3 people the cost is $20.00 per person
We now have yoga mats and blankets.
Just come and lay down and let the sound take you away!
We now have PEMF Therapy as seen on Dr Oz
$ 30.00 for 30 minutes
Evaluations from Jeff Gregory's class at the 2017 Dowsers Conference.
Dowsing the way of the wizard and the power of light and sound.
Lots of fun and informative
Please have him do at least ½ day workshop next year!
I liked that Jeff demonstrated how things worked, and that we dowsed energy levels before and after, I much prefer this to the talks that are lecture only.
Great demonstration.
Loved the session. Demos are great. Take home is obvious. Whole room benefitted from the exercises and crystal bowl meditation. I want to learn more from Jeff.
So illuminating and generous spirit.
Always a joy to be in the room.
Very helpful. Thank you – wonderful presentation – interesting, inspiring, enlightening, encouraging, fun. Best wishes, I mean "loving wishes" (neutral)!
Jeff was terrific. Great pace. Very helpful demos.
Excellent presentation! Clear handout, interactive demonstrations, great experiential exercises. Thank you! xxx
Great new ideas for using sound.
Helped whole class to evolve frequencies. Nice.
Great!!
Excellent! xx
Love this stuff.
Well done!
Great job! Love it and want more. Provided great resources.
Fab! Stupendous! Excellent in every way!!!
It was a wonderful 2016 Dowsing Conference in Saratoga Springs, NY.
Notice the orb over Gayle Mack as we played for the 2014 Conference.
Picture is on the bottom right. www.dowsers.org
At the ASD ceremonial fire in Saratoga Springs.
The orbs must love the Dowsers Convention.
These are Aura photos from the fall psychic fair. I played the 40" gong on Carey who owns Aura Education Research Center and this is what resulted in one minute of gong playing.The image on the left is before and the one on the right is after. Notice the unbalanced chakras on the before pictures. One minute later the chakras were balanced and the aura color changed. Can you imagine what a one hour gong bath does?
New York Times Sound Bath Article
Sound Baths Move From Metaphysical
To Mainstream
Excerpts from Sohpia's Kercher's New York Times Article
(please read the entire article by clicking HERE)
Once found only at New Age retreats or the white-domed Integratron in the Mojave Desert, sound baths are now offered all over Southern California. Celebrities such as Robert Downey Jr., Charlize Theron, Laurence Fishburne and Robert Trujillo of Metallica have participated. Sound healers, sometimes called "sounders," say the vibrations can relax brain-wave patterns, lower heart rate, reduce stress and pain, relieve anxiety and sometimes help with post-traumatic stress disorder symptoms.
Dr. Helen Lavretsky, a psychiatry professor at the Semel Institute for Neuroscience and Human Behavior at the Geffen School of Medicine at U.C.L.A., and a Kundalini yoga instructor, has practiced sound meditation for 11 years, using it for older adults with memory problems, among others.
She said that participants will often fall into a state of profound relaxation and wake up refreshed. "Deep mental and physical relaxation would decrease sympathetic and will increase parasympathetic autonomic nervous system tone and response, thus decreasing stress response,"
The Gong Bath on December 1st was a powerful one as each one of the three Gongs represented Love, Peace and Light. I opened with the prayer below and the vibrations of the Gongs was carried to everyone in the room and beyond. Below is the prayer of Love, Peace and Light for your use during these chaotic times.
Call to book your next event.
607-206-1127
Providence Park Hospital, Novi, MI
Gong bath performance.
The room is at the
Assarian Cancer Center.
Thank You!
Yoga Michigan and the Hospital
for hosting this event.
See pictures below.
Gong and Sound Bath at
The Sambodh Center
Kalamazoo, MI
We would like to thank everyone,
as we had a wonderful turnout.
See pictures below.
Temple of Sakkara Conference
Allegan, Michigan
Playing the
Crystal Singing Pyramid over her head.
In less than 5 minutes the pyramid
balances the left and right hemispheres
of the brain, balances the chakras and starts working on physical problems.
And the best thing it makes you feel good!
We played this 14" crystal pyramid over many people with a lot of positive comments. See Temple of Sakkara
video below.
This video was taken with an Ipad behind the Gongs where most people lay down on mats. Very few people sit. Most people lay down. Bring your mat and a blanket.
The sound quality of the Ipad does not convey the power of the gongs. It is best to be there.
EVALUATIONS FOR JEFF GREGORY, SPEAKER and 20 MINUTE GONG BATH
COMMENTS: Fantastic and gentle soul; He is a master; Great experience; Great job; Wonderful! We should have filled these out before the gongs - we're so zoned out now we can't think!; So great, good speaker and the gong/bowls was a great treat!; Thank you. Great way to start the day.; Great! Lots of new info and lots of demonstrations.; Excellent; Very Nice; Bravo!!; Awesome!; Fabulous!; Thank you - great job, loved it. Would love to do sound therapy laying down.; Excellent, thank you!; Very good; Yey! What a great way to start the day! Good use of presentation vs "Jam Time".; Beyond words! Visualized being in a large pyramid. Amazing experience, thanks.; Really great!! Nice way to start the day! Very relaxing!; I gained a deeper appreciation for the effect of sound on my body. Thank you!; Experiential is always the best!; Very good, clear speaker, answered questions.; Very interesting.; Wonderful, please bring them back next year. Thank you.; Please invite this speaker back.; Great, would do again; Experiential part was amazing; Learned some new things and sound healing, esp. gongs and crystal bowls.; Fantastic, get him again.; Amazing revelation!; Wonderful, gentle, peaceful; Terrific, have again definitely!; Thank you for the sounds/love/light!
The Gongs are a wonderful way to reduce stress and take you into a deep states of meditation. They improve the blood as well. The results below are after a one hour Gong Bath.
Bring harmony back to the body with Gongs, Tuning Forks and
Crystal Singing Bowls.
Sound Sessions include
Astro Sound session, with tuning forks. Includes your astrology chart.
Emotional Sound session, using tuning forks to locate and transmute emotional imprints in the energy field.
Some may go back to birth. Assists in removing current physical problems.
We locate and remove geopathic stress
Are you sleeping or sitting over an area that is detrimental to your health?
We can check your home or office.
Geopathic Stress has been known about since the 1930s.
Watch You Tube video below.
SOUND HEALING with Crystal Singing Bowls and Gongs
UNIFIED FIELD LIGHTBODY ACTIVATION
RINGS OF ODEN Session promotes wellness and mental
well being
This is at the Temple Of Sakarra Conference Allegan MI
40" gong with Rings of Oden Atlantis pattern. The gong with rings take you into deep states of being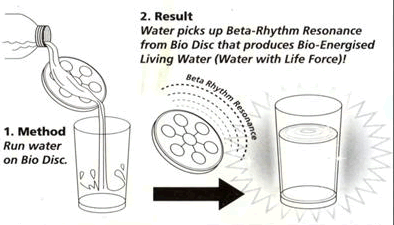 Bio Disc $ 30.00 + $ 5.00 Shipping Order in the web store
New Spin Bio Disc $ 30.00
plus $ 5.00 shipping
Premium 150 Lumen Bio Light to go with Bio Disc $ 180.00
plus shipping $10.00
Bio Light with Bio Disc $ 220.00 shipped
Services available at
Pyramid Wellness
Light Body Activation - This activation brings the body into higher states of resonance and bliss. Promoting wellness and healing. 10 years of doing Light Body Activations.
Sound Healing with clear crystal singing bowls, tuning forks and gongs.
Gong Baths for groups and individuals. Extremely relaxing and healing
Rings of Oden sessions for emotional release and balancing the body, over 300 patterns.
Reiki -20 years of experience
Geopathic Stress Remediation for home and offices. 14 years of experience. See video below.
EMF Remediation
Locating and balancing high
levels of detrimental
Electro Magnetic Frequencies
Dowsing, location of water for wells, 14 years of experience.
Member of the American Society of Dowsers for 12 years.
Presenter at the national dowsers conference.
Quantum Wave Laser sales and training
www.ilovemylaser.com/jeffgregory
Contact Jeff Gregory
607-206-1127
4 Bates Road Johnson City NY 13790
Bio Scalar Pendants are available which protect you
from radiation from cell phones, computers and any device that emits EMF waves.
$ 20.00 plus $ 5.00 shipping
EMF Protection Sticker
Work great for cell phones,
computers and all electronics.
$ 10.00
Our new DVD is available in the web store for $20.00 plus $ 3.00 shipping
Sound Wellness Techniques with Crystal Pyramids, Tuning Forks and Gongs
To enter into the initiation of sound, of vibration and mindfulness, is to take a giant step toward consciously knowing the soul. There are hundreds of accurate models for this great journey inward. Each requires belief and discipline as well as the will to allow the inner and outer worlds to relate. Listening, learning, study, and practice are important tools. But we need the courage to enter into ourselves with the great respect and mystery that combines the faith of a child, the abandon of a mystic, and the true wisdom of an old shaman."
-Don G. Campbell, The Roar of Silence
You can look at disease as a form of disharmony. And there's no organ system in the body that's not affected by sound and music and vibration."
-​Mitchell Gaynor, M.D., Sounds of Healing
" A person does not hear sound only through the ears; he hears sound through every pore of his body. It permeates the entire being, and according to its particular influence either slows or quickens the rhythm of the blood circulation; it either wakens or soothes the nervous system. It arouses a person to greater passions or it calms him by bringing him peace. According to the sound and its influence a certain effect is produced. Sound becomes visible in the form of radiance. This shows that the same energy which goes into the form of sound before being visible is absorbed by the physical body. In that way the physical body recuperates and becomes charged with new magnetism."
​-Hazrat Inayat Khan, Mysticism of Sound
A Crystal Singing Bowl Presentation and Labyrinth walk at Wellness Arts
Montrose, Pa
Crystal Singing Bowl presentation at The Foundation of Light
The Foundation of Light, Ithaca NY
Crystal Singing Bowl presentation.
Finger Lakes Dowsers Presentation
Syracuse, NY
Gong Bath set up with 53LB Shiva Lingam. The Sacred stone of India from the Narmada River. These stones are said to contain the loftiest vibration of all stones on earth.
A Gong session helps us to remember our essence and who and what we are.
/